NEWS
‣
RESTORING HONOR AND SELF-RESPECT
BRINGING CALM TO CITIZENS IN TURBULENT TIMES WITH THE WAY TO HAPPINESS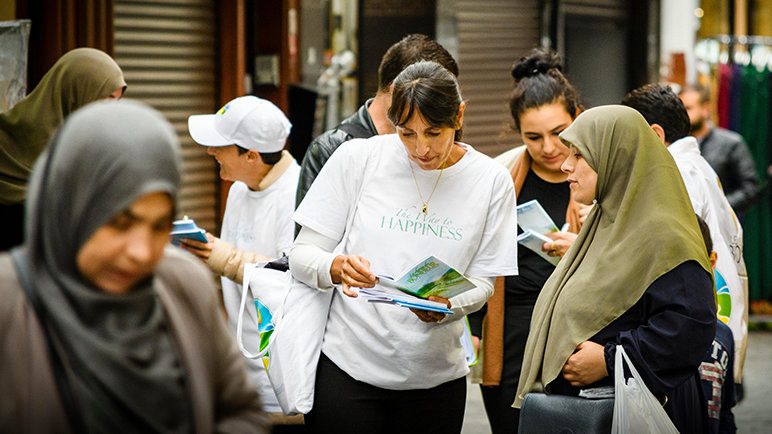 People of many different nationalities and ethnics in Brussels, Belgium, find the path to peace and understanding, thanks to The Way to Happiness Belgium chapter.
Brussels, Belgium, is not only the host city for European Union institutions, but also the home of 180 nationalities, speaking 108 languages, with 55 percent of its population born in another country. Such a mixture can bring beautiful synergies, but also tensions and uncertainties, with Brussels experiencing a violent crime every 11 minutes. Knowing the 21 precepts of The Way to Happiness are the perfect tool to bring calm, Agnes Bron and Evelyne Decavele formed the TWTH Belgium chapter. In the words of TWTH's author, L. Ron Hubbard, "With The Way to Happiness you can, factually, change all this. All you have to do is keep that booklet flowing in the society. Like gentle oil spread upon the raging sea, the calm will flow outward and outward."
They started with distribution of a custom-cover booklet with the Belgian flag in the Matongé quarter of Brussels, known for its mix of African cultures. They then included cleanups of city streets in keeping with precept 12, "Safeguard and Improve Your Environment." Decavele says, "We did several cleanup events as the city is dirty and really in need of it. While we were cleaning, we would also distribute the TWTH booklet."
In 2015, a terrorist attack in Paris led back to the Brussels district of Molenbeek, where one of the main suspects lived. This created high security levels and extreme anxiety amongst locals. Bron, Decavele and their volunteers went directly to Molenbeek to counter this. They distributed not only their Belgium custom-cover TWTH, but a special edition with the French flag gracing the cover in solidarity with the affected country, as well as an Arabic booklet for the Muslim population, now becoming targets of the anxious community and alarmist media. Just as the dust was settling, in 2016, three coordinated suicide bombings hit Brussels directly, two at an airport, the other at a metro station, killing 35 and injuring more than 300. With the country in shock, the TWTH Belgium team took to the streets to reach still farther.
They aligned with a local traders association in Brussels, reaching out to shops across the city with booklets for their customers. Then they reached out to every ethnic, from those who spoke French or Flemish to Pakistanis, Sikhs, Africans, Arabs and Asians, ultimately reaching more than 400,000. Today, Belgium is feeling calmer with a 23 percent decrease in vandalism and a 35 percent decrease in theft and extortion.
---
TAKING ACTION
Calling All Educators
The Way to Happiness (TWTH) contains 21 simple precepts that anyone can learn and follow to lead happy and productive lives.
Educators are a cornerstone of society, providing our youth with guidance and knowledge for their future. Therefore, an Educator's Resource Kit was created to teach students this common sense guide to better living. Any educator can visit twth.org/educator to find out more and order a free kit.
As a New York City school superintendent said, "The Way to Happiness is important because it establishes a framework for what young people are going to do with the rest of their lives. You are talking about a pathway. You're talking about an opportunity to start to make some decisions that can govern your future."
Tell us your stories about teaching youth TWTH. To see a stellar example of implementing the program watch scientology.tv/VJ-Smith.
---
RESTORE TRUST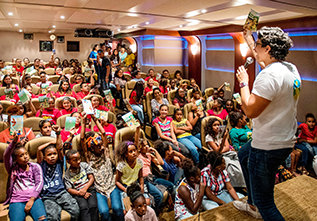 The Way to Happiness Foundation International works to reverse the moral decay of society by restoring trust and honesty through widespread distribution of the 21 precepts. Donations support production and distribution of The Way to Happiness booklet and curriculum material.
---