STEMMING THE TIDE OF CRIME IN PARIS REGION
The Way to Happiness Opens New Doors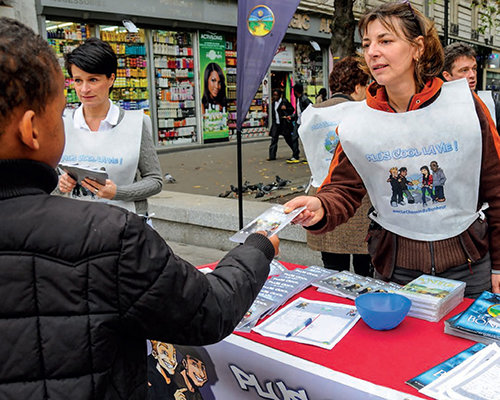 Paris may be famous as the international capital of fashion and cuisine, but beneath the glamour lies a rising tide of crime and juvenile delinquency. In 2014, 3.5 million crimes were committed in France, a third were committed by juveniles.
The Paris Way to Happiness team went to work to do something about the crime wave among the young. They focused on Seine-Saint-Denis, a department (district) in Paris with one of the highest crime rates in the country.
To reach the young population of Seine-Saint-Denis, the team designed a campaign with the slogan "Plus Cool La Vie!" (Life is Cool!). With local sponsorship they printed and distributed 150,000 copies of The Way to Happiness with the custom Plus Cool La Vie! cover.
They also created wristbands, banners, vests, booths and signs. The Life is Cool! Pledge became popular amongst young and old to sign as a commitment to honesty, trust, respect, competence and to set a good example, all based on the 21 precepts for better living in The Way to Happiness.
The team went into every quarter of Seine-Saint-Denis—handing out booklets in apartment buildings with the assistance of building managers, and placing two booklets in every letter box with the help of postal workers. Soon, the first 90,000 booklets were circulating in the community.
Inspiring stories of lives changed appeared from everywhere. A 17-year-old who had been kicked out of his parents' house because of crime and a drug habit read the booklet and made the decision to completely change his lifestyle. He stopped his dishonesty and drug-taking—encouraging his friends to do the same—and was welcomed back home.
The Way to Happiness team next focused on the center of crime, Saint-Denis City, where they distributed another 50,000 booklets to mailboxes and to more than 1,300 businesses and storekeepers in the area who then made the booklets available to customers. The team also organized clean-up events and Life is Cool! pledge signing to involve the community.
Shortly after the campaign began, a survey showed that 90 percent of business proprietors observed improvement of the atmosphere in Saint-Denis City—that it had become calmer since the booklets were distributed. The National Observatory on Delinquency's annual report showed violent crime on the rise in Paris in all departments, except one where the crime rate went down—Seine-Saint-Denis.
---
A COMMON SENSE GUIDE FOR BETTER LIVING
The Way to Happiness booklet of 21 precepts (rules or directions for conduct) is the centerpiece of comprehensive educational programs for school and community educators, business trainers and correctional professionals—complete with lesson plans and audiovisual teaching aids.
---
HELPING OTHERS FIND THE WAY TO HAPPINESS
The Way to Happiness Foundation International works to reverse the moral decay of society by restoring trust and honesty through widespread distribution of the 21 precepts. Donations support production and distribution of The Way to Happiness booklet and curriculum material.
---