Restoring Self-Respect for Inmates with
THE WAY TO HAPPINESS
The Way to Happiness is an effective tool to help restore self-respect and give offenders a guide to leading ethical and responsible lives:
"I was a professional criminal all my life: a drug dealer, an armed robber, rip-off artist, con artist, thief and liar. And I was completely and totally sick to death of myself. In one moment the realization and magnitude of the harm and injury I had inflicted on countless innocent people came crashing into the very core of my being. From that point on I promised myself I would do everything I could to figure out what and how I could change. But it was also at that moment I realized I didn't know how to change. The Way to Happiness program is an excellent guide to change, to think about the effects of the poor choices we've made and to gain new ideas and new concepts. The program has given me the opportunity to effectively help others become what they've always wanted to be—a responsible, trustworthy, dependable part of their family, home and community. I now have an unquenchable desire to help all prisoners be a success and to stay out of prison once they get out."
—Inmate, Zephyrhills Prison, Florida, USA
"THE PROGRAM HAS GIVEN ME THE OPPORTUNITY TO EFFECTIVELY HELP OTHERS BECOME WHAT THEY'VE ALWAYS WANTED TO BE—A RESPONSIBLE, TRUSTWORTHY, DEPENDABLE PART OF THEIR FAMILY, HOME AND COMMUNITY."
"I'm in prison for taking a precious life that God had given to him. I'm so sincerely sorry for that horrendous act I inflicted upon him, as well as his family and my family. The stupid, the evil and the insane seek to solve their real or imagined problems with murder and they have been known to do it for no reason at all. I'm the stupid one, who had no right to take a life. 'All life' is very precious to me and I can't ever take another soul that God has given to Mankind as a gift. By studying this book, it will help you understand life better, it will open your eyes to every aspect of life that you will have to deal with daily and you will know how to deal with them when any problems arrive. There was a guy who asked me, 'How can I influence my son not to be a thief?' I gave him The Way to Happiness."
—Inmate, California State Prison, Corcoran, USA
---
THE WAY TO HAPPINESS
REACHES OUT TO THE WORLD
The Way to Happiness reaches people in all parts of the world, no matter their background, ethnicity or religion: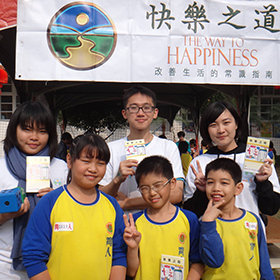 Palestine
The West Bank now has three The Way to Happiness centers open to all in the community.
---
HELPING OTHERS FIND THE WAY TO HAPPINESS
The Way to Happiness Foundation International works to reverse the moral decay of society by restoring trust and honesty through widespread distribution of the 21 precepts. Donations support production and distribution of The Way to Happiness booklet and curriculum material.
---