NEWS
‣
RESTORING HONOR AND SELF-RESPECT
TAKING CARE OF MIAMI'S FAMOUS BEACHES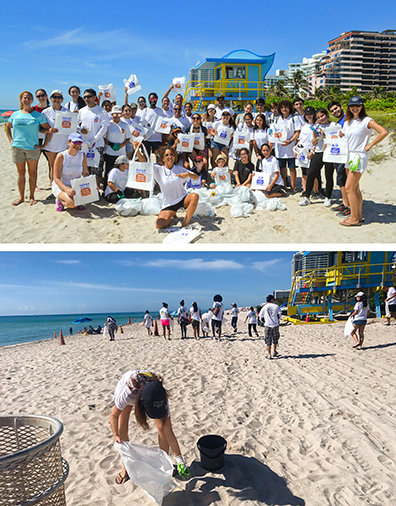 Volunteers chip in on a cleanup to preserve one of their city's most cherished resources.
Volunteers from the Miami chapter of The Way to Happiness Foundation joined other local volunteer groups in a beach cleanup with the message of this year's World Environment Day: beat plastic pollution.
Taking a page from The Way to Happiness by humanitarian and Scientology Founder, L. Ron Hubbard, the Foundation and the Church of Scientology Miami organized a team of volunteers to hit the beach with buckets, gloves and bags.
Mr. Hubbard incorporates environmental responsibility into this nonreligious common sense moral code. "The idea that one has a share in the planet and that one can and should help care for it may seem very large and, to some, quite beyond reality. But today what happens on the other side of the world, even so far away, can effect what happens in your own home."
Case in point is the plastic pollution problem. In his World Environment Day message this year, UN Secretary-General António Guterres said, "Every year, more than 8.8 million tons of plastic end up in the oceans. Microplastics in the seas now outnumber stars in our galaxy."
The World Environment Day website gives examples of actions that can curb or even bring this destruction under control, such as an Amsterdam factory, targeted to open this year, that will use previously unrecyclable plastic to create fuel for diesel-powered cargo ships.
---
WE REALLY WANT TO

HEAR

FROM YOU
Educators use The Way to Happiness to give their students precepts to improve their lives and start them on the right path for their future.
EDUCATOR, UNITED KINGDOM
"This gives the students the ability to develop a personal set of self-reflective morals, become self-aware and not harm others or self. After the class they are non-confrontational and more positive and calm."
EDUCATOR, GUAM
"Students learn the importance of being responsible for oneself and, at the same time, caring enough for others to help better the quality of life for them. The benefit of the material is knowing that we each have the ability to better the world. The information helps provide a better understanding of how one's actions, decisions and choices may affect one's own or another's livelihood."
EDUCATOR, CALIFORNIA, USA
"This helps the individual restore integrity and self-worth. It helps people in my environment choose a better path. I can show people with poor literacy the precepts through the videos and use the guide."
EDUCATOR, TEXAS, USA
"With this, teachers don't have to struggle in finding appropriate material. Students are now treating each other with respect."
EDUCATOR, TANZANIA
"This brings change to the people's minds and attitudes. It makes me feel the world can be a safer place to live if we keep educating people with this common sense guide to better living. The materials help me spread a message of togetherness and tenderness to my fellow human beings."
EDUCATOR, AUSTRALIA
"These materials greatly help improve the lives of others. It creates a strong sense of independence about creating one's own happiness and a responsibility in one's interactions with others."
---
FACTS
MISSING EDUCATION
Knowledge is power, but not all have access to needed education
263
MILLION
school-aged children worldwide are not attending school
57
MILLION
of those children don't go to school because there is no school in their area to attend
15 to 17
YEAR-OLDS
are four times more likely to not be in school than 6- to 11-year-olds
9
MILLION
girls in sub-Saharan Africa will never learn to read or write
35
PERCENT
of all out-of-school children of primary school age live in conflict-affected areas
---
RESTORE TRUST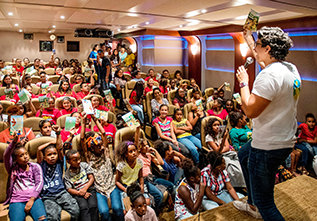 The Way to Happiness Foundation International works to reverse the moral decay of society by restoring trust and honesty through widespread distribution of the 21 precepts. Donations support production and distribution of The Way to Happiness booklet and curriculum material.
---