NEWS
‣
RESTORING HONOR AND SELF-RESPECT
OUT OF AFRICA: AN INTERVIEW WITH A TANZANIAN TEACHER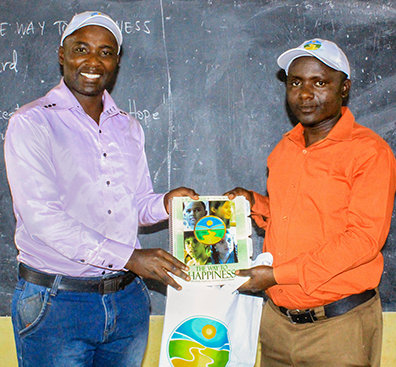 From the Tanzanian trenches, Jackson Buzingo tells us how The Way to Happiness gave him a new tomorrow to bring to others.
Jackson Richard Buzingo is a teacher of English, Swahili and history in Kigoma Region, Tanzania. The country is known to most for being home to the highest mountain in Africa, Mount Kilimanjaro, and for the annual Great Wildebeest Migration of two million of the animals from the Serengeti in Tanzania to the Maasai Mara in Kenya. But away from the popular attractions, on the northwestern Tanzanian border near Burundi, is Kigoma Region and Buzingo's town of Kasulu.
"I was born in a poor family. My parents were so poor they couldn't even take me to school. But because primary education was free of charge, provided by the government, that gave me an opportunity to get an education," he says. Giving back, Buzingo became a teacher to give Tanzania's children a brighter future.
"The Way to Happiness (TWTH) has been my companion since 2008. While I was in my final year of Kabanga Teachers College, I was having stress due to poverty. I was disappointed because I had nothing I needed in life to satisfy my regular needs. I remember it well. In March 2008, I went to the college computer room to use the internet. I was searching the word 'happiness' and I found The Way to Happiness website and started ordering booklets," Buzingo explains. He started teaching his students with The Way to Happiness, in keeping with the book's author, L. Ron Hubbard, who said, "You are important to other people. You are listened to. You can influence others."
Buzingo says, "In my community people are living with vengeance, hostile to each other, murdering one another due to land ownership problems, family inheritance matters, etc. So, I want to try my best to stop this menace that will destroy our youngsters' morals. That's why my focus with TWTH is on youth and children who make up the majority of my community's population."
He continues, "What matters to me is to see people live in a violence-free world where there is no inequality, oppression or exploitation. Because, I believe that people have the same background, regardless of their differences, race, color, ethnicity, religious beliefs, etc."
"What matters to me is to see people live in a violence-free world where there is no inequality, oppression or exploitation.
Buzingo now delivers in three colleges and one secondary school: the Kabanga School of Nursing and Midwives, Kabanga Teachers College, Kasulu Teachers College and Muka Secondary School. "In Tanzania people are faced with various problems that can lead to chaos and violence. I'm committed to bring change through reaching college students, secondary students, government leaders, as well as local members of the community," he says.
Students share with Buzingo what the 21 precepts of The Way to Happiness mean to them. As one from the Kabanga School of Nursing said, "The Way to Happiness has shown me how goodness to other people is very important and how these writings are unique in improving human behavior because of the virtues it provides. I recommend L. Ron Hubbard's mission to the world as extraordinary."
Buzingo now plans to launch TWTH clubs in the schools and colleges where he teaches. "TWTH has changed my life, that's why I'm working tirelessly to influence others."
---
RESTORE TRUST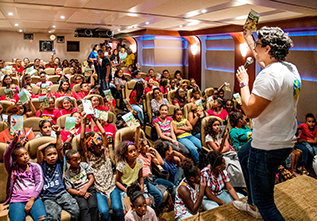 The Way to Happiness Foundation International works to reverse the moral decay of society by restoring trust and honesty through widespread distribution of the 21 precepts. Donations support production and distribution of The Way to Happiness booklet and curriculum material.
---